Invigo helps medical professionals in any industry, through our comprehensive medical marketing services
Is your ambulatory surgery practice looking to grow your business and attract more patients?
You need to have a solid digital medical marketing plan in place to effectively reach your target audience, using carefully-curated strategies designed by industry experts. At Invigo Media, we specialize in creating customized digital marketing plans for Ambulatory Surgery practices.
What is
Ambulatory Surgery?
Ambulatory Surgery, also known as outpatient surgery, is a type of surgery that is performed in a hospital or clinic setting, where the patient is able to go home on the same day.
The necessary surgery is usually performed in a specialized practice, a hospital outpatient department, or a physician's office. The procedures performed in ambulatory surgery are generally less invasive and require shorter recovery times than traditional surgeries that may require an overnight hospital stay.
Examples of ambulatory surgeries include minor procedures such as cataract removal, hernia repair, and tonsillectomy, as well as more complex surgeries such as arthroscopy, endoscopy, and laparoscopy.
One of the benefits is that it generally requires less time away from work or other activities, and it may be less expensive than inpatient surgery.
However, not all procedures can be done on an outpatient basis, and some patients may require overnight observation or admission to the hospital if complications arise.
The decision to undergo ambulatory surgery should be made in consultation with a qualified healthcare provider who can evaluate the individual patient's needs and risks.
Why Do You Need Digital Marketing
As An Ambulatory Surgery Practice?
Digital marketing can help ambulatory surgery practices in many ways. Here are seven key examples of our services:

With the right digital marketing strategies, you can increase your online visibility and reach more potential patients.
Digital marketing allows you to target specific demographics and geographic locations, ensuring that your marketing efforts are reaching the right people.

Better patient engagement
Digital marketing strategies such as social media and email marketing can help you engage with your patients and build stronger relationships with them.

Website design and optimization
Your website is often the first impression that potential patients will have of your practice, so it's essential that it is user-friendly and optimized for search engines.

Search engine optimization (SEO)
This tactic helps your practice rank higher in search engine results pages. By optimizing your website's content and structure, you can improve your chances of being found by potential patients who are searching for Ambulatory Surgery services in your area.
You can use multiple platforms to engage with your patients and build a community around your practice. By sharing educational content, promoting your services, and interacting with your followers, you can establish your practice as a trusted source of information and expertise in the ambulatory surgery field.
This strategy can help you establish your practice as a thought leader in the ambulatory surgery field. By creating educational and informative content, such as blog posts and videos, you can provide value to your patients and attract more traffic to your website.
How Does Marketing For
Ambulatory Surgery Work?
Marketing for ambulatory surgery works by creating a comprehensive plan with many digital marketing strategies tailored to your needs.
Our team of experts will thoroughly analyze your practice's strengths, weaknesses, opportunities, threats (SWOT) and competitor analysis. Based on this information, we will develop a customized marketing plan that includes the strategies that will be most effective for your practice.
Once we have a plan in place, we implement it and continuously monitor and adjust it as needed to ensure that it delivers the desired results. Our team will track key performance indicators (KPIs) such as website traffic, search engine rankings, social media engagement, and lead generation to ensure our marketing efforts generate the desired results.
We provide regular reports and updates so that you can see the progress that we're making and the impact that our marketing efforts are having on your practice. Our team is always available to answer any questions and provide guidance and support as needed.
Let Invigo Media take care of your
Ambulatory Surgery Marketing
At Invigo Media, we understand that Ambulatory Surgery practices face unique challenges when it comes to marketing. That's why we specialize in creating customized marketing plans that are tailored to the specific needs of Ambulatory Surgery practices.
With our expertise and experience, you can trust that we'll deliver the results you need to help your practice grow. We use the latest digital marketing strategies and tools to ensure that your practice stands out in a crowded marketplace.
We believe in building long-term relationships with our clients. We're always available to answer any questions you may have, providing guidance and support as needed.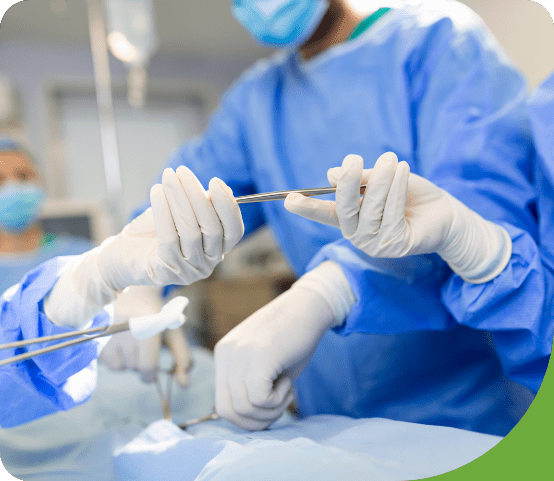 Examples Of Strategies
for Ambulatory Surgery
Here are some marketing strategies that can help Ambulatory Surgery practices attract more patients and grow their business:

Make sure that your website is user-friendly and optimized for search engines so potential patients can find you easily online.
Social media is a great way to engage with your patients and build a community around your practice. You can use social media to share educational content, promote your services, and interact with your followers.

Email marketing is a cost-effective way to stay in touch with your patients and keep them informed about your practice. You can use email marketing to send newsletters, promotions, and updates about your practice.

Online scheduling makes it easy for patients to schedule appointments with your practice, which can help improve patient satisfaction and increase the number of appointments you book.
Patient reviews can be a powerful marketing tool for Ambulatory Surgery practices. Encourage your patients to leave reviews on sites like Google, Yelp, and Healthgrades, and make sure to respond to all reviews.
Digital marketing is essential for Ambulatory Surgery practices that want to attract more patients and grow their business. With the right marketing strategies in place, you can increase your online visibility, engage with your patients, and build a strong brand that sets you apart from your competitors.
Frequently Asked Questions
Let the Ambulatory Surgery Marketing experts help you get to #1 in your community