Discover how our expert team can take care of your care center's digital marketing needs and boost your online presence.
Care Center Marketing Strategies and Ideas to
Boost Your Online Presence
As a assistance home, you play a vital role in providing healthcare services to your community. However, with the increasing competition in the healthcare industry, it's essential to have a robust digital marketing strategy in place to stand out and attract new patients.
At Invigo Media, we understand the importance of effective marketing for care centers, and our team of experts is here to help you grow your online presence.
A care center is a healthcare facility that provides medical and non-medical services to people who require assistance due to age, illness, or disability. Care centers can be in the form of nursing homes, hospices, assisted living facilities, or other types of long-term care facilities.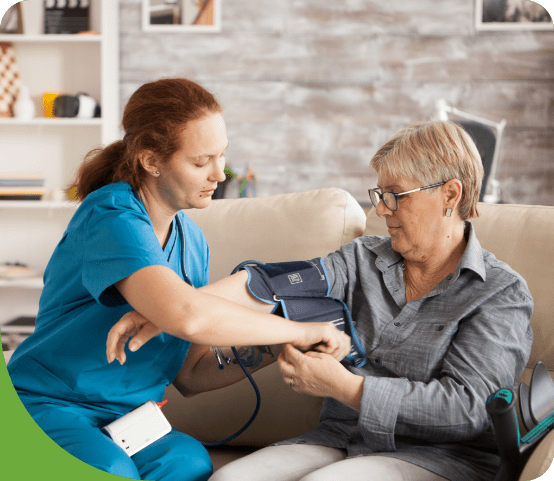 Why do you need digital marketing
in a Care Center?
Here are some benefits of having a robust digital marketing strategy in place for your care center:
Attract new patients: With a strong online presence, your care center can reach new patients who are actively searching for healthcare services in your area.
Build brand awareness: By using social media, email marketing, and other digital marketing channels, you can create brand awareness and establish your care center as a trusted healthcare provider.
Improve patient engagement: With digital marketing, you can engage with your patients on a regular basis, provide them with useful information, and build long-term relationships with them.
What does Care Center
marketing include?
Care center marketing can include a range of strategies and tactics, including:

Search engine optimization (SEO)
Optimizing your website and content to rank higher in search engine results pages.

Pay-per-click (PPC) advertising
Running targeted ads on search engines or social media platforms to reach potential patients.
Creating valuable and informative content, such as blog posts and videos, to attract and engage your target audience.
Using social media platforms like Facebook, Instagram, and Twitter to connect with potential patients and promote your care center's services.

Sending targeted emails to your patients to keep them informed about your services and promotions.
How does marketing for
a Care Center work?
Most people today search for services and products online before making any decisions, and your practice needs to be visible and easily accessible to pAt Invigo Media, we follow a proven process to create effective marketing strategies for care centers:
Our process for creating effective marketing strategies for care centers goes beyond the surface level of what your business is all about. We believe that the best marketing campaigns are the ones that are based on a thorough understanding of your business, your target audience, and your goals. otential patients. Here are five reasons why digital marketing is crucial for your maxillofacial practice:
where we take the time to learn about your care center and what makes it unique and work closely with you to gather information about your care center's history, services, and values.
Conduct research on your target audience
This includes their demographics, online behavior, and healthcare needs. By understanding your business and your audience on a deeper level, we can create a customized marketing strategy that resonates with your target audience and achieves your business goals.
We execute the marketing plan and continuously monitor and optimize our campaigns for maximum results. Our team of experts uses advanced tools and techniques to track the performance of our campaigns, and we make adjustments as needed to ensure that we're meeting your business objectives. We stay on top of industry trends and best practices, and we're always looking for new and innovative ways to help your care center stand out.
Regular reports and updates
We track your campaigns' progress and show you the results of our efforts. Our reports are transparent and easy to understand, so you can see the impact of our campaigns on your business. We use data-driven insights to make informed decisions, and we're always looking for ways to improve our performance.
We don't believe in a one-size-fits-all approach. Instead, we create customized marketing strategies that are tailored to your specific needs and goals.
We have a track record of delivering tangible results for our clients, including increased website traffic, higher conversion rates, and improved patient engagement.
Book a demo today to learn more about our services and how we can help your care center grow.