ENT/Otolaryngology
Marketing
Our medical marketing specialists will enhance your ENT/Otolaryngology healthcare practice's online presence, generating leads, increasing your patient base.
ENT/Otolaryngology is a specialized field of medicine that focuses on diagnosing and treating ear, nose, and throat disorders. As an ENT/Otolaryngology practice, you are vital in providing healthcare services to your patients. However, with the increasing competition in the medical services industry, it's essential to have a robust digital marketing strategy to stand out and attract new patients.
At Invigo Media, we understand the importance of effective marketing for ENT/Otolaryngology centers, and our team of experts is here to help you grow your online presence and reach new patients.
What is
ENT/Otolaryngology?
ENT/Otolaryngology conditions can range from mild to severe and can impact patients of all ages. Some of the most common conditions that ENT specialists treat include:
Hearing loss: This can occur due to aging, exposure to loud noises, or other factors.
Sinusitis: This is a condition in which the sinuses become inflamed and cause symptoms like facial pain, congestion, and headaches.
Sleep apnea: This is a sleep disorder in which breathing stops and starts repeatedly during sleep, leading to poor sleep quality and other health issues.
Allergies: ENT specialists can diagnose and treat allergies that affect the ears, nose, and throat, such as hay fever and allergic rhinitis.
Throat disorders: ENT specialists can help patients with throat disorders, such as hoarseness, vocal nodules, and polyps.
Head and neck cancer: ENT specialists can diagnose and treat cancers that affect the head and neck, including throat cancer, laryngeal cancer, and thyroid cancer.
The field of ENT/Otolaryngology is constantly evolving, and new treatments and technologies are being developed to improve patient outcomes. As an ENT/Otolaryngology clinic, it's essential to stay up-to-date with the latest trends and advancements in the field to provide the best possible care to your patients. With our expertise in creating effective marketing strategies, we can help you highlight your medical office's expertise and commitment to patient care. This will set you apart from your competitors and attract new patients to your establishment.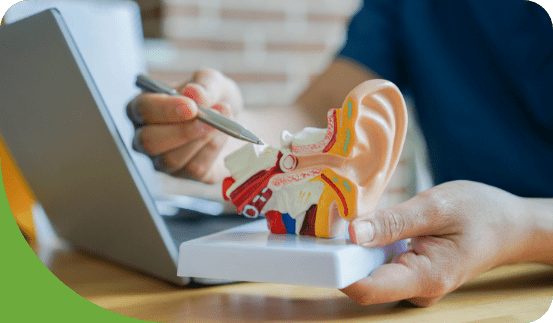 Why Do You Need Digital Marketing
ِAs an ENT/Otolaryngology center?
Here are a few of the benefits of having a robust digital marketing strategy in place for your ENT/Otolaryngology establishment:
Attract new patients: With a strong online presence, your institution can reach new patients actively searching for medical treatment services in your area.
Build brand awareness: Using social media, email marketing, and other digital marketing channels, you can create brand awareness and establish your center as a trusted healthcare provider.
Improve patient engagement: With digital marketing, you can engage with your patients regularly, provide helpful information, and build long-term relationships with them.
What Does
ENT/Otolaryngology marketing include?
ENT/Otolaryngology marketing can include a range of strategies and tactics, including:

Search engine optimization (SEO)
Optimizing your website and content to rank higher in search engine results pages.

Pay-per-click (PPC) advertising
Running targeted ads on search engines or social media platforms to reach potential patients.
Creating valuable and informative content, such as blog posts and videos, to attract and engage your target audience.
Using social media platforms like Facebook, Instagram, and Twitter to connect with potential patients and promote your facility's services.

Sending targeted emails to your patients to keep them informed about your services and promotions.
How does marketing for
ENT/Otolaryngology work?
At Invigo Media, we follow a proven process to create effective marketing strategies for ENT/Otolaryngology operation:
We start by learning more about your business, your target audience, and your goals.
Based on our findings, we develop a customized marketing strategy that includes tactics like SEO, PPC advertising, content marketing, and more.
We execute the strategy and continuously monitor and optimize our campaigns for maximum results.
We provide regular reports and updates to track our progress and show you the results of our efforts.
By following this process, we ensure that our marketing campaigns are tailored to your specific needs and goals, and we're able to deliver tangible results for your business.
Let Invigo Media take care of your
ENT/Otolaryngology marketing
The reasons why you should choose us to handle your ENT/Otolaryngology marketing include the following:
Industry expertise: Our industry expertise lies in comprehending the distinct challenges and opportunities that arise in promoting ENT/Otolaryngology center, and our proficiency in devising successful marketing strategies that yield tangible results.
Customized solutions: We don't believe in a one-size-fits-all approach. Instead, we create customized marketing strategies that are tailored to your specific needs and goals.
Transparent reporting: We provide regular reports and updates so that you can see the progress of our campaigns and understand the results of our efforts.
Proven results: We have a track record of delivering measurable success for our clients, including increased website traffic, higher conversion rates, and improved patient engagement.
We are uniquely positioned to help you develop and implement an effective marketing strategy for your establishment. Our team has the knowledge and experience necessary to guide you through the process and deliver results.
Frequently Asked Questions
Book a demo today to learn more about our services and how we can help your practice grow.