Fill Out The Form Below Now
To Get Started.
Book your FREE One-On-One Practice Profit Potential Consultation Today.
Benefits to Neurosurgery Marketing
Neurosurgery Marketing Ideas and Strategies
It all starts with getting on Google.
Don't get it twisted. We're not referring to just having a website.
That will come in later.
What we are talking about is the best free way to get traffic on Google and almost immediately.
Introducing, GMB or Google My Business.
This little free service allows you to do just that and more.
In fact, this where we want your clinic to show up:
See where that neurology clinic shows up? Right on the first page when someone searches for it.
This is where you should be.
So how do you do it?
Just upload your information on GMB for free and you should be set. It's actually free because Google wants it's users to find accurate local results.
So simply add your address, the name of your neurology practice, along with some high quality pictures and you're set.
This single service will allow you to start receiving patients almost immediately.
So once you get this going, what's next?
Advertising a neurosurgery clinic requires the same type care and precision that you do when you are dealing with your patients.
If you don't market properly, you won't get the results and if you go to fast, you might incur penalties that can even ban you from popular platofrms like Google, Facebook and others.
Just like Neurosurgery, marketing a neurosurgery practice or clinic requires delicate yet determined work.
So how does it all work.
Let's start with step one and that is someone looking for your clinic by name on Google.
When a potential neurosurgeon patient goes on Google and searches for 'neurosurgeon clinic' online, they get these results.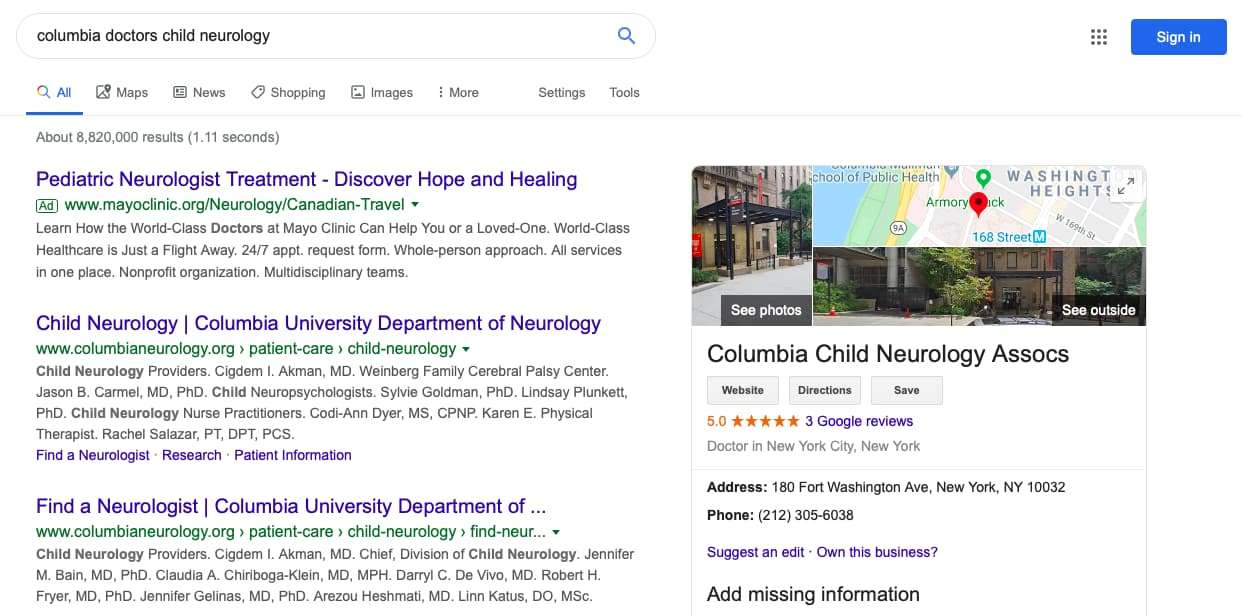 If you show up here, you'll be getting patients all the time. Getting here is the challenege and that's what SEO is all about. SEO is more of a long term strategy and we don't encourage you to focus on it now.
However, it's something you should keep in the back of your mind for now or at the very least, have your website up and running.
If you already have a website, don't forget to add it to Google My Business (First step) so you can start to create some credibility in Google.
Neurosurgery PPC Services
Pay-per-click or PPC is an internet advertising model used to direct traffic to your website. They actually looks like this: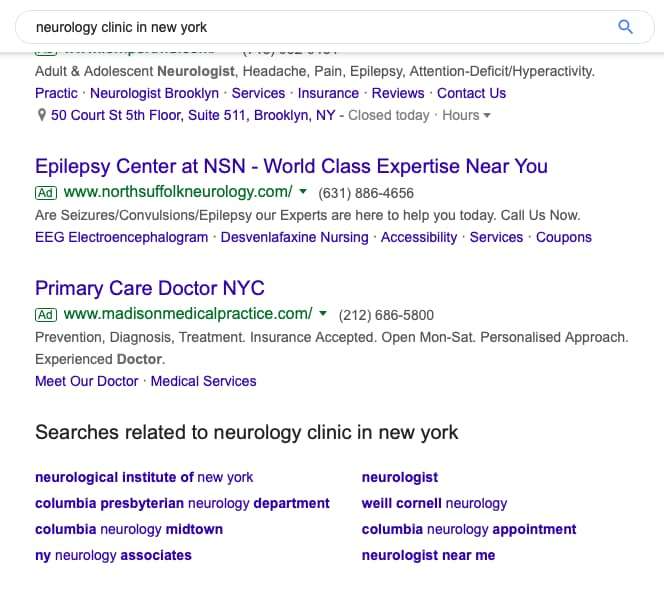 They are shown in a similar fashion on Google, Bing and YouTube to name a few. The PPC ad appears above or below all the rest of the results. Depending on the search engine.
PPC is hugely popular and accounts for 64% of clicks that are related to commercial intent. Businesses on average make two dollars in revenue for every 1 dollar spent on Google AdWords.
To setup your PPC campaign,  you choose the keywords , create the ads, point them to whatever landing page you want them to go to and off you go.
You are more than welcome to try this process yourself or if you want to skip the learning curve (Plus a much higher chance of losing a lot of money in testing, etc), get in touch with us and let us set it up for you. We've done it for well over a thousand businesses and you could be one of them.
Frequently Asked Questions About Neurosurgery Marketing
How To Market A Neurosurgery Clinic?
It's all done in three steps. Get listed on GMB, create a website and start thinking about SEO and get into PPC immediately. Do these three steps right and you'll have a ongoing source of incoming patients.
Should I List My Neurosurgery Clinic On Google?
Your website and your own clinic listing should be on Google.
How Long Does SEO For A Neurosurgery Clinic Take?
A fairly long time but it's just because you are trying to market a neurosurgery clinic. The time involved is pretty common for any website.
For A Neurosurgery Practice, Which Pay Per Click Service Works Best?
You have to test out all of them and see which works best for you.
We're Helping You Get To The TOP Of Your Neurosurgery Industry…
WITHOUT Sacrificing Everything You Love To Get There…