Discover the importance of periodontics marketing and how it benefits your practice. Let Invigo Media handle your periodontics marketing & experience the difference.
In today's digital age, having a robust online presence is crucial for the success of any business, including periodontics practices.
Digital marketing offers many benefits and opportunities to showcase your expertise, connect with potential patients, and grow your practice.
Periodontics is a specialized branch of dentistry that focuses on the prevention, diagnosis, and treatment of gum diseases and conditions that affect the supporting structures of teeth. 
It addresses issues like gum inflammation, gingivitis, periodontitis, and dental implants. 
At Invigo Media, we understand the unique challenges faced by periodontics practices and the need for tailored marketing solutions to reach and engage with your target audience effectively.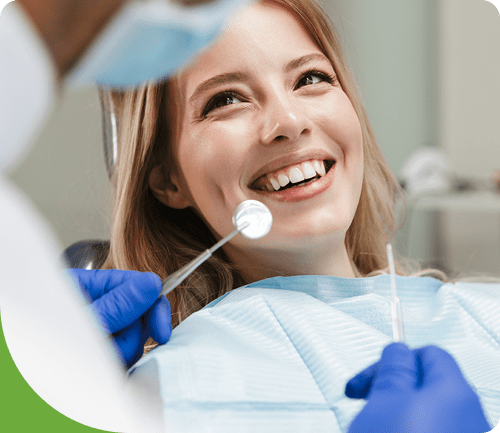 Why Do You Need Digital Marketing

As A Periodontics Practice?
Whether you aim to attract new patients, educate your community about periodontal health, or establish yourself as a leader in the field, digital marketing strategies can help you achieve your goals efficiently. Digital marketing for periodontics can:
Increase Online Visibility
Optimize your website and online profiles to appear prominently in search engine results, making it easier for patients to find you when they search for periodontics services.
Build Trust and Credibility
Share informative content, patient testimonials, and success stories through various digital channels to establish trust and position your practice as a reliable source of periodontal care.
Reach your ideal audience by leveraging targeted advertising campaigns that focus on specific demographics, geographic locations, and interests, ensuring maximum return on investment.
Utilize social media platforms, email marketing, and other interactive tools to engage with patients, answer their questions, and foster lasting relationships that drive patient loyalty and referrals.
What Does Periodontics Marketing Include?
Periodontics marketing encompasses a range of strategies and tactics tailored to the unique needs of your practice.
At Invigo Media, we offer comprehensive periodontics marketing services, including:

1. Website Design and Optimization: Create a visually appealing and user-friendly website that showcases your expertise, services, and patient testimonials while incorporating search engine optimization techniques to improve your online visibility.

2. Content Marketing: Develop high-quality, informative content such as blog posts, articles, and videos that educate patients about periodontal health, treatment options, and preventive care. This content educates and establishes your practice as a thought leader in the field.

3. Search Engine Optimization (SEO): Enhance your website's visibility on search engines by implementing SEO strategies, including keyword optimization, backlink building, and local SEO techniques that target patients in your area.

4. Pay-Per-Click (PPC) Advertising: Drive targeted traffic to your website through carefully crafted PPC campaigns, ensuring that your practice appears at the top of search engine results for relevant keywords.

5. Social Media Marketing: Engage with your audience through social media platforms like Facebook, Instagram, and Twitter, sharing valuable content, promotions, and updates to build a loyal community around your practice.

6. Online Reputation Management: Monitor and manage your online reputation by proactively addressing reviews and feedback, responding to patient inquiries, and maintaining a positive online image.

7. Email Marketing: Stay connected with your existing patient base and nurture relationships through personalized email campaigns, providing valuable information, promotions, and reminders about upcoming appointments or procedures.

8. Conversion Rate Optimization (CRO): Improve the effectiveness of your website and marketing campaigns by analyzing user behavior, conducting A/B testing, and implementing strategies to increase conversions, such as optimizing contact forms and appointment scheduling.

9. Analytics and Reporting: Gain valuable insights into the performance of your marketing efforts through detailed analytics and reporting. Track website traffic, user engagement, conversion rates, and other key metrics to make data-driven decisions and continually refine your strategies.
How Does
Marketing for Periodontics Work?
Marketing for periodontics involves a strategic approach to reach, attract, and engage with your target audience effectively.
It begins by understanding your practice's unique value proposition, target market, and goals.
With this knowledge, Invigo Media develops a customized marketing plan that utilizes various digital channels and tactics to maximize your practice's visibility and growth.
Our process includes: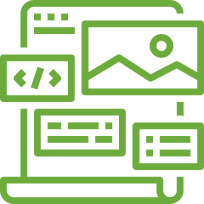 Our team collaborates with you to create a comprehensive marketing strategy tailored to your periodontics practice. We identify your target audience, define clear objectives, and outline the steps necessary to achieve your marketing goals.
Implementation
and Execution
Once the strategy is in place, we execute the marketing plan, leveraging various digital marketing channels, platforms, and tools to deliver your message to the right audience at the right time. This includes website design and optimization, content creation and distribution, social media management, advertising campaigns, and more.

Monitoring
and Optimization
We continuously monitor the performance of your marketing campaigns, analyzing data and metrics to identify areas of improvement. Through careful analysis, we refine and optimize your strategies to ensure optimal results and a strong return on investment.

Ongoing Support
and Maintenance
Our partnership doesn't end after the initial implementation. We provide ongoing support, maintenance, and updates to your marketing efforts, staying abreast of industry trends and adapting strategies to keep your practice ahead of the competition.
Let Invigo Media Take Care of Your Periodontics Marketing
At Invigo Media, we specialize in periodontics marketing and have a deep understanding of the unique challenges faced by periodontics practices. 
With our expertise, cutting-edge strategies, and commitment to delivering exceptional results, we can help your practice thrive in the digital landscape.
Why choose Invigo Media:
Experience and Expertise:

Our team has extensive experience working with periodontics practices, enabling us to develop tailored marketing strategies that align with your goals and objectives.

Customized Approach:

We understand that every practice is unique. That's why we take a personalized approach, crafting marketing solutions that reflect your practice's values, brand identity, and target audience.

Results-Driven Strategies:

We focus on delivering tangible results that drive growth and success for your practice. Our data-driven approach ensures that your marketing investments yield a strong return on investment.

Transparent Communication:

We believe in open and transparent communication with our clients. You'll have full visibility into the progress and performance of your marketing campaigns, with regular reports and updates to keep you informed.

Full-Service Solutions:

Invigo Media offers a comprehensive range of digital marketing services, covering everything from website design and content creation to SEO, PPC advertising, social media management, and more. We handle all aspects of your periodontics marketing, allowing you to focus on providing exceptional patient care.
Effective marketing is essential for the success and growth of your periodontics practice. By leveraging digital marketing strategies tailored to the unique needs of your practice, you can enhance your online visibility, build trust and credibility, and attract a steady stream of new patients.
Invigo Media is here to take care of your periodontics marketing needs. Let us be your trusted partner in driving your practice's success in the digital landscape.
Book a demo today to discuss how Invigo Media can elevate your periodontics practice through effective marketing strategies. 
Frequently Asked Questions
About Periodontics Marketing
Periodontology is a niche industry, with few practitioners compared to general dentists. To attract patients, a specialized digital marketing strategy is needed. Potential patients often search online before booking a consult, so having a strong online presence is crucial. Choices for creating this presence include taking a digital marketing course, hiring a young marketer, or using a specialist medical marketing group.
Invigo Media is an experienced marketing partner that will create a personalized strategy to grow your periodontics practice. They are always innovating to improve their services and clients' results.
Invigo Media can help identify and fix holes in your systems by analyzing both front and back-end operations, and by automating certain daily tasks. This can save time and money, allowing you to focus on your specialty while they handle the marketing plan. Book a demo to learn more.