Plastic Surgery
Marketing
Learn how digital marketing can help plastic surgery practices increase online visibility, engage with patients, and grow their business. Contact Invigo Media.
Boost Your Plastic Surgery Practice with
Our Comprehensive Marketing Solutions
Invigo Media specializes in helping plastic surgery practices grow and prosper with tailored marketing strategies that cater specifically to the demands and nuances of the industry.
Our expert team comprises experienced professionals who possess a deep understanding of the unique challenges and opportunities present in the plastic surgery field.
We are committed to meeting and exceeding our clients' expectations by offering a comprehensive range of top-notch digital marketing solutions.
Plastic surgery is a specialized branch of medicine that concentrates on reconstructing, restoring, and enhancing the human body through a variety of surgical techniques and procedures. 
This dynamic field encompasses cosmetic and reconstructive procedures designed to improve a person's appearance, functionality, and overall well-being. Cosmetic procedures primarily focus on enhancing a person's aesthetic appeal. Reconstructive procedures aim to restore function and form to areas affected by congenital defects, trauma, or medical conditions.
As the field of plastic surgery continues to evolve and incorporate cutting-edge technologies and techniques, the demand for high-quality, skilled plastic surgery practitioners has surged. 
Patients are increasingly seeking practitioners who can provide safe, effective, and aesthetically pleasing results that align with their specific needs and desires.
In this competitive landscape, it is essential for plastic surgery practices to differentiate themselves from their peers and establish a strong reputation for excellence. 
A key component of this differentiation is maintaining a robust online presence and implementing a targeted marketing strategy. By leveraging digital marketing tools and tactics, plastic surgery practices can effectively showcase their expertise, demonstrate their commitment to patient care, and highlight the unique aspects of their practice that set them apart from competitors.
A well-crafted marketing strategy increases visibility, attracts potential patients, and fosters trust and credibility among the target audience. It is essential for practitioners to develop a comprehensive approach that encompasses various digital marketing channels, such as search engine optimization (SEO), content marketing, social media marketing, and online reputation management. 
This multifaceted approach ensures that your practice can engage with potential patients at every stage of their decision-making process, from initial research to booking a consultation.
The Importance of Digital Marketing for
Plastic Surgery Practices
In today's digital age, patients rely on the internet to research and select their healthcare providers.
Here are some examples of how digital marketing can benefit your plastic surgery practice:

Increase online visibility
With effective search engine optimization (SEO) strategies, your practice can rank higher in search results and reach a wider audience.

A professional website, informative content, and positive online reviews can establish your practice as a trusted provider in the industry.

Social media platforms and email marketing allow you to communicate with existing and potential patients, providing valuable information and fostering relationships.

Create targeted advertising
Digital marketing allows you to target specific demographics and geographic locations with your advertising, ensuring that you are reaching the right audience for your services.

Track and analyze performance
With digital marketing tools, you can track your website traffic, social media engagement, and advertising performance, allowing you to make data-driven decisions and continuously improve your marketing strategies.
Provide educational resources
By creating informative blog posts, videos, and other content, you can educate potential patients about various plastic surgery procedures and address common concerns and questions.
Facilitate online scheduling
With online scheduling tools, patients can easily book appointments and consultations, making the process more convenient and efficient.
It is important to work with a reputable digital marketing agency that specializes in healthcare marketing and can provide customized solutions to meet the unique needs of your practice.
Key Components of
Plastic Surgery Marketing
Paid advertising: Investing in targeted digital advertising, such as Google Ads, social media advertising, or display advertising, to reach potential patients who are actively searching for plastic surgery services.
Email marketing: Building and maintaining a database of current and potential patients to send newsletters, promotional emails, and appointment reminders.
Video marketing: Creating engaging and informative videos that showcase your practice, services, and results.
Patient education resources: Providing educational resources, such as eBooks, webinars, and FAQs, to help patients make informed decisions about their plastic surgery options.
Online scheduling and patient portals: Offering convenient online scheduling tools and patient portals that allow patients to access their medical records, communicate with their providers, and manage their appointments.
It's important to note that a successful plastic surgery marketing plan should be customized to your specific practice and target audience. 
Working with a reputable healthcare marketing agency that can help you identify the best strategies and tactics to achieve your goals and maximize your ROI is recommended.
How Invigo Media Can Elevate Your
Plastic Surgery Marketing
We believe a successful plastic surgery marketing plan starts with understanding your practice's unique value proposition and target audience. 
We begin by thoroughly analyzing your current online presence and identifying areas for improvement. We then work with you to define your target audience, key messages, and goals for the marketing plan.
Our team of experts will create a visually stunning, mobile-responsive website that showcases your services and expertise. We focus on user experience, ensuring the site is easy to navigate and provides valuable information for potential patients. We optimize your website for search engines, ensuring you rank high for targeted keywords and appear in local search results.
Our content marketing team will create informative blog posts, articles, and videos that showcase your expertise and address common patient concerns. 
We also offer social media management services, leveraging popular platforms to engage with your audience, share relevant content, and promote your services. We monitor and address online reviews and feedback, helping to maintain a positive image for your practice.
Our paid advertising team will design and manage targeted digital advertising campaigns to reach potential patients who are actively searching for plastic surgery services. We will also help you build and maintain an email database, sending newsletters, promotional emails, and appointment reminders.
Why Choose Invigo Media for Your
Plastic Surgery Marketing Needs
At Invigo Media, we pride ourselves on our industry expertise and ability to create effective marketing strategies tailored to plastic surgery practices.
Our team has extensive experience working within the healthcare industry, and we understand the unique challenges and opportunities that come with marketing plastic surgery services.
We offer a comprehensive suite of digital marketing solutions, including website design and development, search engine optimization, content marketing, social media management, email marketing, paid advertising, and reputation management.
Our goal is to provide a one-stop shop for all of your marketing needs, allowing you to focus on providing exceptional patient care while we handle the marketing efforts.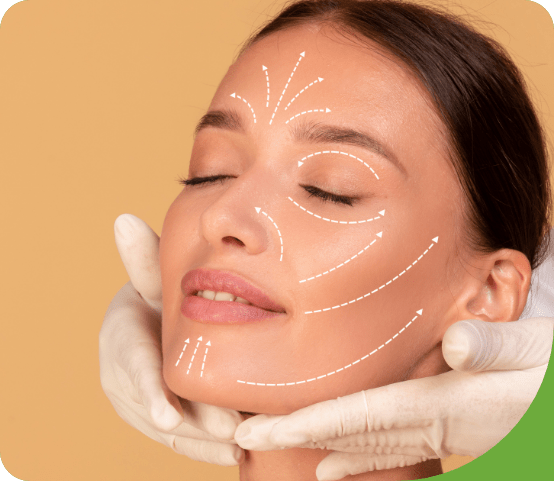 We are committed to delivering results for our clients, and our track record of success speaks for itself. We have worked with numerous plastic surgery practices to help them grow significantly and increase revenue through our marketing services. Our team of experts will constantly monitor and optimize your marketing campaigns to ensure the best possible results for your practice.
One of the things that sets Invigo Media apart is our personalized approach to every client. We understand that every practice is unique, and we take the time to get to know you and your goals.
We work closely with you to develop a customized marketing strategy that meets your specific needs and fits within your budget. Our team is always available to answer your questions, provide guidance, and make adjustments to your marketing plan as needed.
Don't let your practice get lost in the digital landscape.
Ready to transform your plastic surgery practice's online presence and attract more patients?
Frequently Asked Questions
Let Invigo Media take your plastic surgery marketing to the next level. Contact us today to learn more about how we can help your practice grow and thrive.