Vascular Medicine
Marketing
Invigo Media specializes in medical marketing for vascular medical healthcare practices. We will help you increase your client base and authority in the industry.
Welcome to Invigo Media. We specialize in crafting effective marketing strategies tailored to the unique needs of vascular medicine clinics. With our expertise, you can maximize your online presence, attract more patients, and boost your business's growth.
What is Vascular Medicine?
Vascular Medicine focuses on diagnosing and treating conditions that affect the circulatory system, including arteries, veins, and lymphatic vessels. It encompasses a range of specialties such as vascular surgery, interventional radiology, and cardiology. 
Our vascular medicine marketing strategies are designed to help you reach your target audience effectively and convey the value of your services. By highlighting your proficiency and emphasizing the importance of vascular health, we can position your facility as a trusted authority in the field.
Why Do You Need Digital Marketing as a Vascular Medicine Practice?
In today's digital age, having a solid online presence is crucial for any medical business, including vascular medicine. Digital marketing allows you to connect with potential patients, increase brand awareness, and drive more traffic to your website. 
Whether you specialize in vascular surgery, vein treatments, or other vascular interventions, our tailored marketing strategies can help you stand out from competitors. By leveraging various digital channels such as search engine optimization (SEO), social media, and content marketing, we ensure your business gets the visibility, quality lead generation and acquisition of new patients it deserves.
What Does
Vascular Medicine Marketing Include?
Vascular Medicine marketing encompasses a wide range of strategies to promote your practice effectively. Our comprehensive approach includes: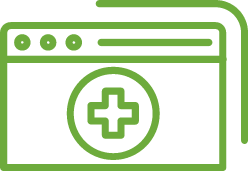 Website
Development and Optimization
We create engaging, user-friendly websites that reflect the professionalism and expertise of your establishment. Through strategic optimization, we improve your website's visibility in search engine results.
Our team of experienced medical writers develops informative and engaging content that educates your audience about vascular health, treatment options, and the benefits of seeking specialized care.
Search
Engine Optimization (SEO)
By optimizing your website and content for relevant keywords, we ensure that your practice ranks higher in search engine results, driving more organic traffic to your site.

We leverage popular social media platforms to connect with your target audience, increase brand awareness, and engage with patients.

Pay-Per-Click
Advertising (PPC)
We create targeted PPC campaigns to generate leads and drive traffic to your website.
How Does Marketing
for Vascular Medicine Work?
At Invigo Media, we follow a proven process to develop effective marketing strategies for Vascular Medicine businesses. Our approach includes but is not limited to the following:
We conduct thorough research to understand your practice, target audience, and competitors. This information helps us create a customized marketing plan tailored to your specific goals and requirements.
Based on the research findings, we develop a comprehensive marketing strategy that includes website optimization, content creation, SEO tactics, social media campaigns, and targeted advertising.

Our team of experts executes the marketing plan, implementing various strategies and monitoring their performance. We continuously analyze data and make adjustments to optimize results.
We develop high-quality, informative content showcasing your Vascular Medicine expertise. This includes blog posts, articles, videos, and infographics that engage and educate your target audience.
Let Invigo Media Take Care of Your Vascular Medicine Marketing
With Invigo Media as your trusted marketing partner, you can focus on providing exceptional care to your patients while we handle your vascular medicine marketing efforts. 
Our experienced team understands the unique challenges and opportunities in the healthcare industry, and we have a proven track record of delivering results for our clients.
Choose Invigo Media for:
Customized marketing strategies tailored to your Vascular Medicine practice

Professional website development and optimization

Engaging content creation that educates and attracts patients

Increased online visibility through SEO tactics

Effective social media engagement to build your brand

Targeted paid advertising campaigns for maximum ROI

Invest in your practice's growth and success with Invigo Media. 
Ready to take vascular medicine marketing to the next level? 
Book a demo today to discuss your to discuss how we can elevate your Vascular Medicine marketing strategies. Our team is always available to answer your questions and guide you through the process.
Frequently Asked Questions About
Vascular Medicine Marketing
Vascular medicine is a specialized field dealing with vein and artery disorders. Invigo Media offers tailored marketing solutions for vascular medicine practices. We help connect you with patients searching for your services, through SEO, content marketing, social media, review monitoring, and reputation management. Our custom plan helps grow your patient base and fill your appointment book.
Vascular medicine requires a comprehensive marketing strategy, including website optimization for search, content marketing, social media engagement, review monitoring, and reputation management. Invigo Media offers affordable, effective online marketing solutions for vascular medicine practices. Our team creates a custom plan to connect you with patients searching for your services, grow your patient base, and fill your appointment book. Contact us today to bring in new patients searching for specific services you provide.
At Invigo Media, we specialize in marketing for vascular medicine practices. Our team of experts has years of experience helping medical professionals grow their practices and fill their appointment books. We offer services such as SEO, content marketing, social media management, and reputation management, among others. We create a custom action plan to help you bring in new patients and increase revenue. Let's talk about how we can work together today.