Cosmetic Dentistry Marketing Ideas and Strategies
Cosmetic Dentistry Advertising
Most likely, you're probably getting a few people coming in looking for teeth whitening and so on.
Well let's assume they are absolutely delighted by your service and are willing to come back on a regular basis.
Well why not turn them into your very own evangelists?
There is no better marketing than your own patients putting in a good word for you.
These days with social media, there is literally no limits to how far your reach can go. However, we are not into 'hope marketing' so let us give you the first step.
Get your cosmetic dentistry clinic listed on Google. No we're not talking about starting a website (We'll get to that later) but getting your very own and free business profile on Google.
Believe it or not, you can actually get your professional business profile on Google for free.
Well, have you seen these things on the side of Google:
These results usually pop up when you type in a cosmetic dentistry clinic by name (Especially if the business only has one location).
This is what a Google business profile looks like: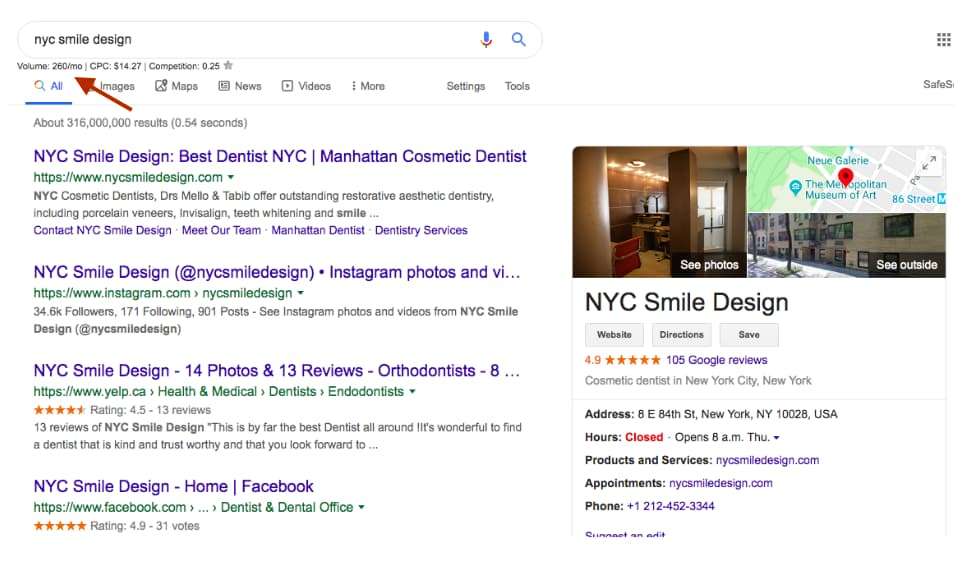 This service has gone through several names changes and today it's known as Google My Business.
I guess the name makes sense right?
So the first step is to get your dentistry listed on Google this way. By the way, did you get a chance to look at what that red arrow was pointing at? Well that's Google's estimate on how many people search for that exact phrase.
Imagine people finding your practice specifically when someone searches for cosmetic dentist in your city, every single month.
So once you jumpstart this inflow of customers, what is the next step?
Well you can just stick with this free source of business but since pretty much every other dentistry will be competing for your spot, it's best to consider this as just one of your patient acquisition sources.
Now that you've seen first hand how the internet can play a tremendous role in bringing you some serious business, it's time to double down on your results with a website.
Cosmetic Dentistry SEO Marketing
Now this is where the real fun begins.
Google reviews can help you get customers from several searches but with your website, you can generate your own stream of patients.
You see, your website is not just a visual tool that shows what you do, your website should literally be looked at as your CMO or chief marketing officer.
The look of your website has to be top notch (No doubt about that) but also work as a lead generation machine.
After all, what's the point of having a beautiful website when it's not going to bring you any new dentistry clients right?
Well without getting too technical, this is how the process works:
First you want to make sure Google can see your site properly. This part is known as "technical" SEO.
Next is to fix the look of your site and make sure it's using "tags" that Google recommends.
Finally, get other websites to start putting the link of your website on theirs. This is also known as building 'backlinks'.
So once you have a nice beautiful site setup, it's time to sit back and help whomever needs it.
Well, not exactly . . .
The issue with setting up a website and getting it ready to collect leads (Patients) for you is that it takes time to establish.
Not days, but months.
You might have the look part down in a few weeks but to establish traffic, this is going to take some serious time.
3-6 months if you're doing things properly.
Once your website is established though, it's a phenomenal patient acquisition channel. Only downside is it's going to take time.
So what are you going to do in these 3-6 months?
What if a whole bunch of new cosmetic dentists pop up in your neighborhood and Google is forced to give all of them equal time?
This will dramatically drop your flow of customers.
What will you do then?
Well just like creating a website and marketing it properly will get you customers in the long run, to get customers immediately, you need to pay for them.
Cosmetic Dentistry PPC Services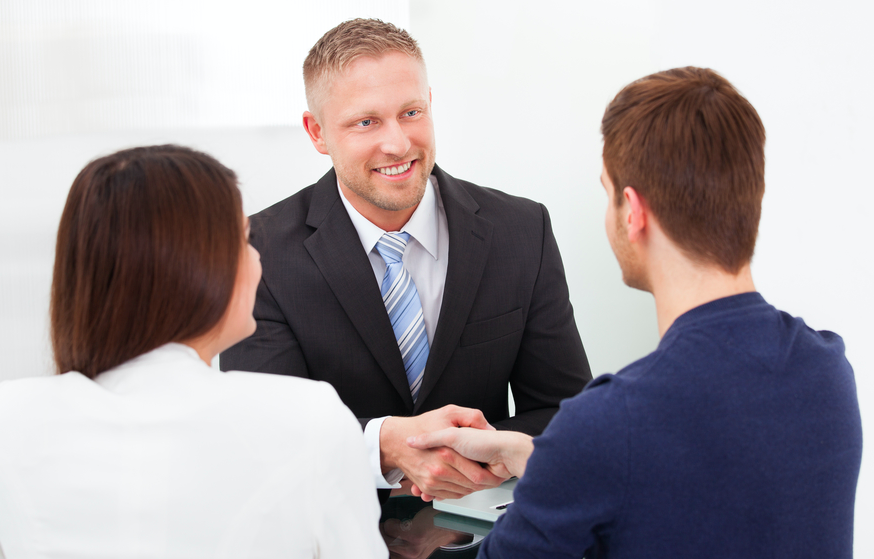 This is the most classic way of getting customers immediately.
Paying per lead has come a long way and create targeted results like you wouldn't believe.
All thanks to digital marketing services like Google Adwords and Facebook ads.
The only downside to these tools is they have become quite sophisticated.
Gone are the days where you can just select a city, set a minimum daily amount and off you go.
These days, you really need to spend some decent time on setting it all up.
First you need to test and optimize your ads over and over to find the best performing ad.
Second part of this equation is to keep testing further to minimize your cost per click.
As you can see, with literally anything that produces results, there is somewhat of a process involved here as well.
Now if you have more time, feel free to test things out yourself and if you just want to get going and start getting leads in the most cost effective way possible, let us know.
In a nutshell, you need these three pieces working in total harmony to get the best results possible.
Frequently Asked Questions
How To Market a Cosmetic Dentistry Clinic?
To market your cosmetic dentistry clinic, first list your site on GMB, then start getting some instant traffic through PPC and finally, dive into SEO.
Should I list my cosmetic dentistry clinic on GMB?
Yes. That should be the first thing that you should do.
How long does SEO for cosmetic dentistry take?
It really depends but usually takes around 3-6 months to see any results. SEO is a long term game.
For cosmetic dentistry, should I use Google Adwords or Facebook Ads?
Again, the best way to find this out is by testing your own ads. For some Google Adwords is a better choice for others, it' FB ads. In some cases, both channels may work as well.
We're Helping You Get To The TOP Of Your Cosmetic Dentistry Industry – Without  Sacrificing Everything You Love To Get There