Healthcare Marketing Software For Medical Doctors
Uncover Problem Areas, Plug Costly Leaks, and Automate Your Practice Growth.
Patient Retention & Relationship Management
Your relationships with your patients and prospects are everything in the growth of your medical practice. Without knowing where prospects are in your sales cycle and without keeping track of your patients… your practice is doomed.
In the past, the only way to keep track of patients and prospects was tracking everything by hand, or paying thousands for complicated CRM solutions. With EverGenius® we've fixed all your CRM issues.
Manage patients and keep track of where prospects and contacts are in your sales cycle all in one simple dashboard. Every lead, prospect and patient is tracked and accounted for.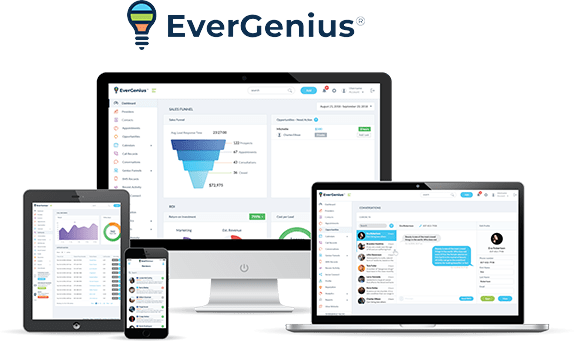 Insightful, Easy-to-Understand Growth Reports
Our EverGenius software tracks ALL the numbers in your clinic (front end numbers, back end numbers, etc…) and displays it to you in an insightful, easy-to-understand growth report.
No more confusing analytic reports.
You can easily see the "problem areas" in your practice… and what you should be focusing on to improve. Whether it's an appointment-setting issue, or there's an issue with your closing/sales process… EverGenius will pinpoint exactly where there's room for improvement.
Plus, you get to see how ALL of your marketing campaigns are performing. And each month, you can pinpoint the EXACT return-on-investment you get. So you feel confident and can make the most educated decisions possible for your business.
Get 5 STAR Reviews Automatically
If a negative review goes up on Healthgrades or Yelp, What do you do? Hope it goes away on its own? It won't. Call the site to get it removed? They won't.
EverGenius tracks and aggregates reviews from multiple online sources, so you get 5 star reviews from your patients automatically… boosting your online presence and improving your overall review score.
Automated Appointment Follow Ups
EverGenius® Automatically sends appointment confirmations via text, email and voice. Studies show that more than 95% of SMS messages are read – so you can bet the customer will get the message. This cuts down on no-shows that eventually cost you money and saves you a boatload of time getting rid of manual follow up.
Track and analyze the effectiveness of various marketing channels using unique tracking phone numbers for each channel.
Take it from our CEO straight. He wrote the #1 bestseller The Automated Entrepreeneur for a reason. Streamline your marketing operation with automated follow-up emails, SMS Texts, Voice and more to move potential patients down the sales funnel with ease.
Concise, informative, insightful content for your medical marketing, branding, or website assets.
Facebook Advertising Medical
Expert Facebook marketing campaign strategy and execution for all kinds of medical practices.
Pay Per Click Management PPC
Secure membership website development, for top of the line patient confidentiality and trust.
Medical Consulting Services
Coaching and training services to empower your clinic to understand and master marketing processes.
Bring your brand to life with high quality video content, perfect for marketing campaigns or your clinic website.
Clean, intuitive website design, augmented by the latest in web development features, for your clinic.
We're Helping You Get To The TOP Of Your Industry… WITHOUT Sacrificing Everything You Love To Get There…