Ramesh Kumar, owner of Lifewell M.D has a multi-location oncology business he's been running since 1994. However, he was tired of the traditional insurance based model and wanted to transition into a cash-based model. He knew his brand needed a full overhaul, needed to establish his authority, and expert influence to attract the affluent community… but he had no idea how to do so, or the time. Which is why he decided to partner with us at invigoMedia
Lifewell M.D. grows 500% in 90 days with InvigoMedia partnership.

Oncology
Medical Spa
Gainswave
No time. Zero online presence. Transitioning from insurance to cash-based. Needed consistent flow of new patients. Needed help closing patients.
Ramesh was stressed out, overworked, underpaid.
He wanted to be able to step away from his oncology practice, and go full time with his concierge level care cash based business.
The problem was… he had no time. Zero online presence. And zero know-how of how to attract a consistent stream of new patients.
Ramesh wasn't sure how to make the transition with his staff while replacing his current income with the new "Cash Based" clinic… so he reached out to invigoMedia.
1. Overhaul of Brand, Before & After
LifeWell MD needed a complete brand overhaul. So we created a mobile-responsive, full-tier website conveying authority and expertise to his local affluent community.
2. Direct-Response Patient Attraction
LifeWell M.D. didn't have time to manage their own marketing. So we implemented direct response elements on their website and started driving inquiries for gainswave and coolsculpting consults.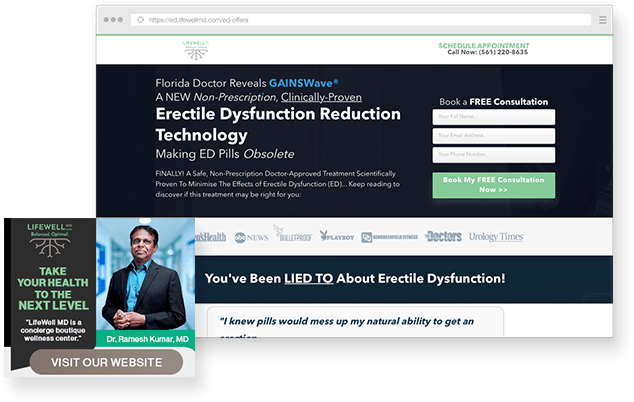 3. Multi-Step Marketing System To Create A Consistent, Predictable & Reliable Source Of New Patients
Using our multi-step marketing system, we then set out to create a consistent and predictable stream of new patients.
We created lead-generating landing pages. Setup, managed and optimized a Google Adwords campaign.
Developed a celebrity-branding campaign through the use retargeting.
Implemented an SMS (text messaging) multi-step system using our in-house A.R.T. (Automated Response Technology)
And tracked everything with our Sales Pipeline and ROI Management strategies.
Within 90 days of working with invigoMedia, LifeWell M.D. started to see some amazing results from their marketing investment.
We were able to increase their new patient consultations for Gainswave Shockwave Therapy from 3-4 per month to 4-5 per week.
An increase of over 500% within the first 90 days!
We also increased their inbound call volume by 376%… in fact, we had to hire and train a new patient coordinator to handle the influx of inbound calls and inquiries for gainswave and coolsculpting consults
(notice how many calls go unanswered because we flooded Ramsesh's practice with inquiries…, almost half go unanswered!)
Ande established an effective online presence and increased website visits by over 606%

INCREASE IN WEBSITE TRAFFIC
INCREASE IN NEW PATIENT CONSULTATIONS
"I've been burned Solid in the past, finally I've found a team that delivers"
Ramesh Kumar,
Owner & CEO Of Lifewell MD
Want To Learn The Secrets We Took To Get Lifewell MD Known As An Authority that NEVER competes on price? Click The Button To Apply Now