Boost Patient Satisfaction with
Healthcare SMS Marketing
We're Your Experts in Clinic SMS Communication
Are repetitive tasks like manual text messaging slowing down your healthcare practice?
Invigo Media is your go-to partner for revolutionizing patient engagement through SMS mobile marketing in the healthcare industry.
Why Choose
Healthcare SMS Marketing?
SMS marketing automation allows you to streamline your communications by sending patients automated and personalized text messages.
It eliminates the hassle of manually sending reminders or follow-ups, saving valuable time and resources. Other benefits include:
Improved
Patient Engagement
Patients are more likely to read and respond to text messages promptly than emails or phone calls.
Enhanced
Appointment Reminders
Reduce no-shows and last-minute cancellations by sending automated appointment reminders via SMS.

After appointments, follow up with patients to gather feedback and ensure they are satisfied with their care.
Targeted Health
Tips and Information
Share educational content that empowers patients to take control of their health, fostering a sense of trust and loyalty.
Increased
Patient Retention
Patient engagement via SMS strengthens the doctor-patient relationship. Use SMS to offer loyalty programs, discounts, or exclusive promotions, incentivizing patients to remain loyal to your practice.

Streamlined Communication
with Stafft
Notify staff about schedule changes, emergencies, or important updates instantly, ensuring everyone is on the same page.
Our SMS Marketing Automation Solutions offer:
Customizable Messaging:
Our service allows you to craft tailored messages that resonate with patients.
Automated Appointment Reminders:
Patients appreciate the convenience and are more likely to remember their appointments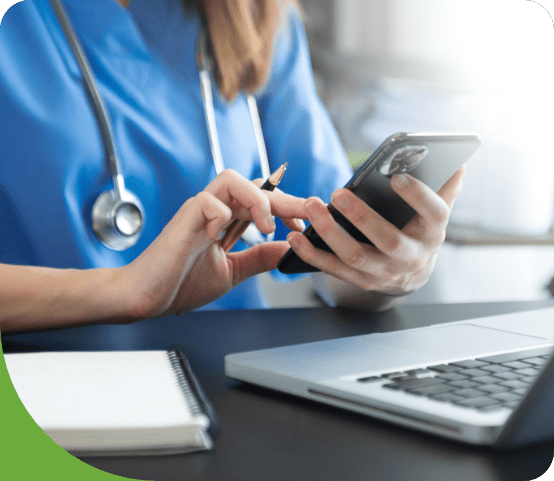 Segmentation and Targeting Options: Our automation solution allows you to categorize patients based on various criteria, such as appointment type, condition, or demographic information.
Compliance and Data Security Measures
Compliance with regulations like HIPAA is paramount. Therefore, our SMS marketing service prioritizes compliance and data security. Messages are sent securely, ensuring patient data remains confidential.
Ready to Elevate Patient Engagement?
Your patients deserve the best, and your staff deserves efficiency. With SMS marketing automation from Invigo Media, you can have both! 
Let's revolutionize how you communicate with your patients and manage your practice.
Take the first step towards a more patient-centric, efficient, and thriving healthcare practice.