Neurology Marketing Ideas and Strategies
Neurology Clinic Advertising
First step is to make sure that you are at least listed on the free sites that are out there. Not just free sites all around the world, but specific "local" free directories.
Now you can hire an agency or a consultant for this or even do it yourself.
After all, where do your patients come from right now? Are they coming from some other countries?
In most cases, patients looking for help in the neurology department come from local areas. Either from your own city or not far from it.
So first step is to make sure you get your name out in the local medical directories.
Now there are so many of these directories, how do you know which one is the best?
Well what if I tell you there's only one that you need to worry about right now and that is Google Business Listings (Don't worry we'll share other marketing techniques later).
Don't worry, it's actually 100% free to list your neurology clinic there. Just by being there, it will give you instant credibility as well. You see, we don't follow trends, we just do what works.
Anyways, getting listed here is also quite simple. Just make sure you have a gmail account. Once that's out of the way, all you have to do is just follow the steps.
It's like your patient filling out a simple medical form.
Now when someone types in your neurology clinic's name, your listing will show up.
For this example, let's say someone type in Neurology center of New York.
See that listing on the left with the nice bright images, map and decent reviews. That could be you.
The more reviews you have, the more patients you will get.
Now that's what we call a simple marketing plan.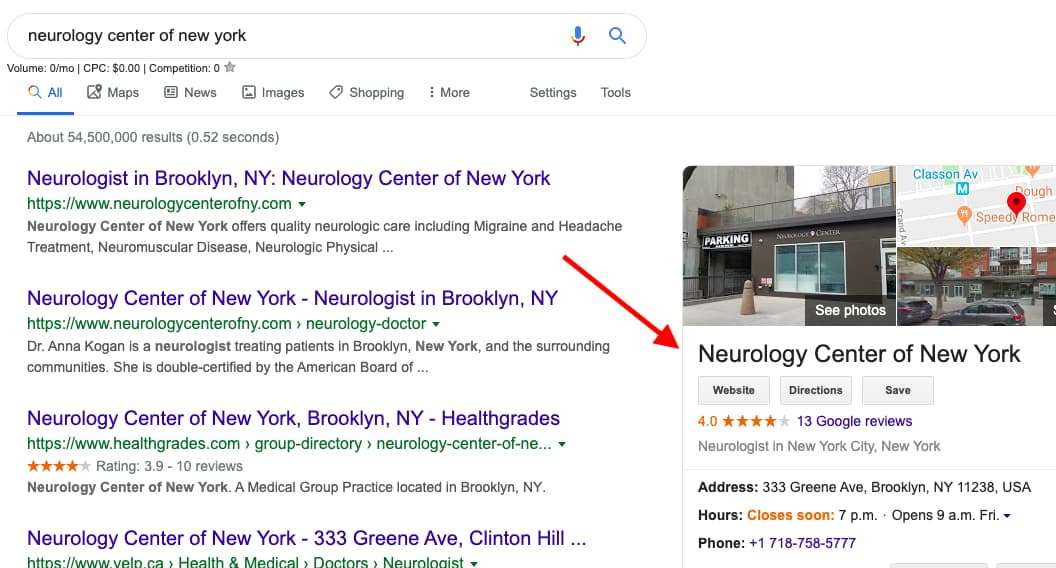 So right now what you need to do is get your self listed on there (It's a free service by the way) and get your patients to start leaving you reviews on this unique and powerful service.
If you're just getting started, the only thing this would do is help you out further so don't delay.
So let's say you start getting a few patients on a regular basis, people are beginning to know you a little bit so what is the next step?
How can you make sure this flow of traffic continues?
Well it's time to invest in a website.
If you look at your Google profile, you'll see they have a section where allows you to add your website. You can add your other social media profiles here as well.
Once your site is up and running, we encourage you to add it here immediately. As it will start establishing some credibility with Google.
Now that your website is added, it's time to begin marketing your website.
Maybe you're at this point you're thinking "Well I'm getting a decent amount of visitors from Google, why not just stick with that?"
Well just like this Google service was introduced recently, it could also be taken out.
What will you do then?
However, if you have your own website established by then, you won't have to rely on anyone anymore to send you patients..
Now if that's not power, I don't know what is.
So how do you set up your site for success on Google?
There is actually a proven step by step formula to this and it consists of 3 main steps.
First thing you have to do is make sure that your website is ready for Google's ranking technology.
If Google's algorithms can't 'crawl' around your website properly, you'll have a very hard time getting any traction.
To tackle this common issue, make sure your site's tech issues are all taken care of. Every website has problems but make sure they are not holding Google from giving you the good rankings that you deserve.
So long story short, the first step is to take care of all the technical side. Once that is out of the way, then it's time to work on your content.
By content, we don't just mean text. We mean everything. Whatever information you think will be useful to the user,  you need to insert it in your article. Whether it's text, images, videos or a combination of these things, the idea is to provide the best information on that subject.
Content has to be long in word count and authoritative. Gone are the days when you can just talk about something that has like 300 to 500 words and be done with it. If you hire a firm, that suggests the following, please run the other way.
Google is looking for authority and that's what you need to provide.
So what qualifies as an authority article?
Although there are lots of examples on the internet, generally speaking, anything that is more than just a few hundred words. Obviously you don't want to just increase your word count while typing all kinds of nonsense.
At the end of the day, you should be aiming for authentic and real information. If that is the angle you take, you'll naturally end up writing a whole lot more than just a thousand words or so. You can hire content marketing companies but if you do it yourself, it's just sounds more authentic.
Granted each topic can be different, always try to give as much information as you can on that specific topic. You can use some fun ideas like history of the topic in question, celebrity influence and more.
All you have to do is  just be creative with it. Anyways, SEO for Neurology clinics is a very deep topic and we hope this gave you some idea on the amount of work that goes into it.
So you're listed on Google, you got a nice website online but to get immediate results (This is also what 90% of the successful medical clinics are doing today) is run paid ads on Facebook and Google Adwords.
Also known as PPC or pay per click marketing.
This is the so called secret sauce behind one of the most succesful medical clinics out there.
How do we know?
Well we've helped one of the biggest medical clinics out there and PPC for these neurology clinics is their biggest patient acquisition channel.
How does it work?
The idea is pretty simple actually.
You place an ad, set a bid and when someone clicks on on your ad, they land on your website or wherever you wanted them to go. The patient takes action (Calls you) and off you go.
Sounds simple but setting it up properly is what counts.
That's where we come in.
Frequently Asked Questions About Neurology Marketing
How To Market a Neurology Clinic?
You can achieve this in 3 simple steps. Getting your neurology clinic listed on Google. Creating a professional lead generating website and then finally driving real traffic by using pay per click services.
Should I List My Neurology Clinic On Google Business?
It is highly recommended that you list your site on it as fast as possible. It's just one of the best ways to create a professional presence online and start driving patients to your clinic immediately.
How Long Does SEO For Neurology Clinics Take?
Search engine optimization can take months. Whether it's local SEO (Which applies to most neurology clinics) or international SEO. Think of SEO as planting a seed for a big strong tree. It's going to take some time before it actually becomes into one.
For A Neurology Clinic, Should I Use Google Adwords Or Facebook Ads?
Well, it all depends. We suggest you try both out and see what works for you the best. Sometimes it could be a combination of two that could prove as the winning one.
We're Helping You Get To The TOP Of Your Neurology Industry… WITHOUT Sacrificing Everything You Love To Get There…