As a neurologist, the only thing you should be focused on is your own work. After all, it's not easy dealing with different kinds of patients, performing surgeries and literally saving people's lives. The last thing you want to worry about is how can you help more people who need your help.
Neurology Marketing Strategies
to Grow Your Practice
Neurology is a specialized branch of medicine that focuses on the diagnosis and treatment of conditions affecting the nervous system, including the brain, spinal cord, and nerves.
With the increasing competition in the healthcare industry, it's essential to have a robust digital marketing strategy in place to stand out and attract new patients. At Invigo Media, we understand the importance of effective marketing for neurology practices, and our team will help you grow your online presence and reach new patients.
Neurologists study the intricate workings of the nervous system, utilizing advanced diagnostic tools and techniques to identify various neurological disorders. Once diagnosed, they develop personalized treatment plans using medications, rehabilitation, surgery, or other approaches to alleviate symptoms and improve patients' quality of life.
The field of neurology is constantly evolving, and new treatments and technologies are being developed to improve patient outcomes. It's essential to stay up-to-date with the latest trends and advancements in the field to provide the best possible care to your patients.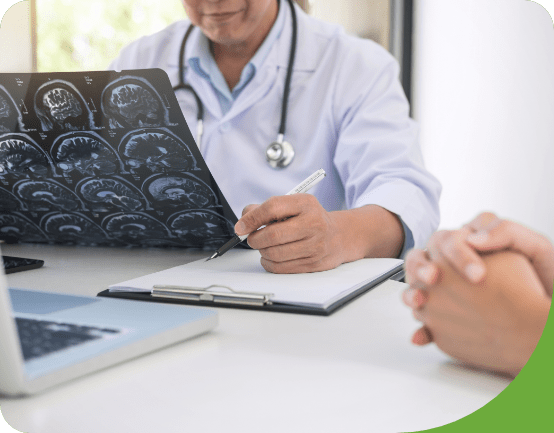 Why Do You Need Digital Marketing
As A Neurology Practice?
Healthcare providers must establish a prominent virtual presence to effectively connect with their target audience and stay competitive.   Here are some benefits of having a robust digital marketing strategy in place for your neurology practice:
Attract new patients: With a strong online presence, your practice can reach new patients actively searching for healthcare services in your area.
Build brand awareness: Using social media, email marketing, and other digital marketing channels, you can create brand awareness and establish your practice as a trusted healthcare provider.
Improve patient engagement: With digital marketing, you can engage with your patients regularly, provide helpful information, and build long-term relationships with them.
What Does
Neurology Marketing Include?
Neurology marketing can include a range of strategies and tactics, including:

Search engine optimization (SEO)
Optimizing your website and content to rank higher in search engine results pages.

Pay-per-click (PPC) advertising
Running targeted ads on search engines or social media platforms to reach potential patients.
Creating valuable and informative content, such as blog posts and videos, to attract and engage your target audience.
Using social media platforms like Facebook, Instagram, and Twitter to connect with potential patients and promote your practice's services.

Sending targeted emails to your patients to keep them informed about your services and promotions.
Let Invigo Media Take
Care Of Your Neurology Marketing
Our medical marketing practice has a history of achieving results, and we have years of experience working with neurology practices like yours. Here are some reasons why you should choose us to handle your neurology marketing:
We understand the unique challenges and opportunities of promoting neurology practices, and we have the expertise to create effective marketing strategies that get results.
We don't believe in a one-size-fits-all approach. Instead, we create customized marketing strategies that are tailored to your specific needs and goals.
We provide regular reports and updates so that you can see the progress of our campaigns and understand the results of our efforts.
We have a track record of delivering tangible results for our clients, including increased website traffic, higher conversion rates, and improved patient engagement.
How does marketing for
Neurology work?
At Invigo Media, we follow a proven process to create effective marketing strategies for neurology practices. This includes but is not limited to:
Discovery: We start by learning more about your practice, your target audience, and your goals.
Implementation: We execute the strategy and continuously monitor and optimize our campaigns for maximum results.
Reporting: We provide regular reports and updates to track our progress and show you the results of our efforts.
By following this process, we ensure that our marketing campaigns are tailored to your specific needs and goals, and we're able to deliver tangible results for your practice.
Frequently Asked Questions
We're Helping You Get To The TOP Of Your Neurology Industry… WITHOUT Sacrificing Everything You Love To Get There…