Discover how Invigo Marketing will help take care of your ophthalmology marketing needs. Achieve quality leads, increase your client base and your credibility.
Effective digital marketing is a game-changer whether you're a small clinic or a large healthcare institution. By utilizing digital platforms, you can expand your reach, attract more patients, and build a strong online presence.
Imagine a situation where someone is searching for an ophthalmologist in their area. Without a solid digital marketing strategy, your practice might remain hidden among the countless search results.
However, with the proper marketing techniques, you can optimize your online visibility, increase website traffic, and generate qualified leads.
Digital marketing enables you to engage with your target audience in meaningful ways. By utilizing social media platforms, email marketing, search engine optimization (SEO), and pay-per-click (PPC) advertising, you can effectively communicate your services and industry expertise to potential patients.
At Invigo Media, we understand the unique challenges faced by ophthalmology practices. We specialize in crafting customized marketing strategies that align with your goals and ensure maximum return on investment (ROI). Let's explore what our comprehensive marketing services include.
What Does
Ophthalmology Marketing Include?
Ophthalmology marketing encompasses a wide range of strategies tailored to meet the specific needs of eye care practices. These include but are not limited to: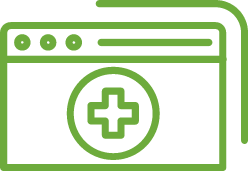 Website
Design and Developmen
A professionally designed website is the cornerstone of your online presence. We create visually appealing and user-friendly websites that reflect your brand identity and provide essential information to potential patients.
Search
Engine Optimization (SEO)
We employ proven SEO techniques to improve your website's visibility in search engine results. By optimizing your site's content, meta tags, and backlink profile, we ensure that your practice appears prominently when people search for ophthalmology services in your area.
Pay-per-Click
(PPC) Advertising
Our team creates targeted PPC campaigns to drive immediate traffic and generate leads. We strategically place ads on search engines and social media platforms, ensuring that your practice gets noticed by individuals actively seeking eye care services.

We leverage the power of social media platforms to connect and engage with your audience. Through compelling content, community management, and paid advertising, we help you build a strong social media presence that boosts brand awareness and patient engagement.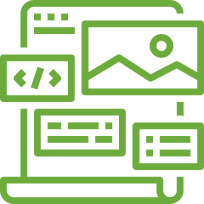 Our experienced content writers produce informative and engaging articles, blog posts, and videos related to ophthalmology. By sharing valuable content, we position your practice as a thought leader and attract potential patients actively seeking eye care information.
We develop targeted email campaigns to nurture leads and build relationships with your patient base. By sending personalized and relevant content, we keep your practice at the forefront of their minds and encourage repeat visits.
How Does Marketing for
Ophthalmology Work?
Marketing for ophthalmology involves a strategic and data-driven approach. We follow a well-defined process to ensure the success of your marketing campaigns: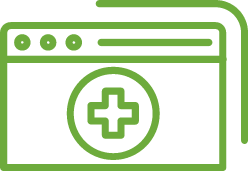 We conduct in-depth market research and analyze the competitive landscape to understand your target audience and competitors. This information helps us tailor marketing strategies that effectively reach and resonate with potential patients.
Based on the research findings, we develop a comprehensive marketing strategy customized to your ophthalmology practice. This includes determining the most suitable digital channels, creating engaging content, and setting clear objectives and key performance indicators (KPIs) for your campaigns.
We optimize your website to enhance its visibility in search engine results. This involves implementing SEO best practices, improving site speed and responsiveness, and ensuring a seamless user experience across devices.

Leveraging the skills of our seasoned content writers and designers, we produce captivating and informative content that highlights your expertise and effectively addresses the needs and concerns of your specific audience. Whether it's engaging blog posts, captivating videos, or visually appealing infographics, our content creation efforts are dedicated to educating, engaging, and stimulating patient interest.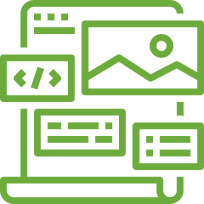 With our meticulous approach to PPC campaigns, we empower your practice to achieve prominent visibility and attract highly qualified traffic to your website. Our continuous monitoring and optimization efforts are aimed at unleashing the full potential of these campaigns, delivering exceptional effectiveness and ensuring a robust return on investment (ROI).
We track the performance of your marketing campaigns using advanced analytics tools. This allows us to measure the impact of our strategies, identify areas for improvement, and make data-driven decisions to continuously enhance your marketing efforts.
Let Invigo Media Take Care of Your Ophthalmology Marketing
At Invigo Media, we specialize in ophthalmology marketing and have a successful track record of helping ophthalmology practices achieve their marketing goals. Here's why you should choose us as your marketing partner:
Expertise:

Our team comprises professionals who understand the unique challenges and opportunities within the ophthalmology industry. We have the knowledge and expertise to develop tailored strategies that drive results.

Customized Approach:

We take a personalized approach to every project, crafting strategies that align with your practice's goals, target audience, and budget. Our customized solutions ensure you get the maximum return on your marketing investment.

Comprehensive Services:

From website design and optimization to content creation, social media management, and paid advertising, we offer a full suite of services to meet your marketing needs. Our integrated approach ensures consistency and effectiveness across all channels.

Proven Results:

We have a strong track record of delivering measurable results for our clients. Through our data-driven strategies and continuous optimization, we help ophthalmology practices increase patient leads, improve online visibility, and drive practice growth.
Let Invigo Media be your trusted partner in ophthalmology marketing. We can help you unlock the full potential of digital marketing and drive the success of your ophthalmology practice.
Book a demo today to discuss how we can elevate your ophthalmology marketing efforts and take your practice to new heights.
Frequently Asked Questions About
Ophthalmology Marketing