Orthopedic
Marketing and Strategies
Invigo Media specializes in medical marketing for orthopedic healthcare practices. We will help you increase your client base and authority in the industry.
Welcome to Invigo Media's orthopedic marketing and strategies page, where we delve into the world of effective marketing techniques for orthopedic practices.
Orthopedics is a medical specialty that focuses on the diagnosis, treatment, and prevention of conditions and injuries affecting the musculoskeletal system. The musculoskeletal system includes bones, joints, ligaments, tendons, muscles, and nerves that work together to support the body, enable movement, and provide stability.
Why Choose Digital Marketing for Your Orthopedic Practice?
In today's digital age, having a strong online presence is essential for any orthopedic practice. Digital marketing allows you to reach a wider audience, build brand awareness, and attract new patients. 
By utilizing various online marketing strategies, you can effectively promote your services, showcase your expertise, and establish your practice as a trusted authority in the orthopedic field.
Digital marketing also enables you to engage with your existing patients and build long-lasting relationships. Through email marketing, social media engagement, and personalized content, you can provide valuable information, updates, and offers that keep your patients informed and connected with your practice.
At Invigo Media, we understand the unique challenges and opportunities within the Orthopedic industry. Our team of digital marketing experts is experienced in developing tailored strategies that drive results and help your practice thrive in the online landscape.
What Does
Orthopedic Marketing Include?
Orthopedic marketing encompasses a range of strategies and tactics designed to enhance your practice's visibility and attract new patients. Here are some key components of a comprehensive orthopedic marketing plan:
Search Engine
Optimization (SEO)
Optimizing your website with relevant keywords, improving your site's structure, and implementing local SEO techniques to ensure your practice appears prominently in search engine results.

Pay-Per-Click
(PPC) Advertising
Running targeted ad campaigns on search engines and social media platforms to drive qualified traffic to your website.
Creating informative and engaging content such as blog posts, articles, and videos that educate your audience and position your practice as a trusted resource.
Leveraging popular social media platforms to build brand awareness, engage with your audience, and share valuable content and updates.
Online
Reputation Management
Monitoring and managing your practice's online reputation through review management, testimonial collection, and proactive brand monitoring.
By implementing a holistic orthopedic marketing strategy that combines these elements, you can strengthen your online presence, attract new patients, and foster loyalty among your existing ones.
How Does Marketing for Orthopedic Work?
Orthopedic marketing works by leveraging various digital marketing strategies to promote your practice effectively. Here's a closer look at how marketing for orthopedic works:

1. Targeted Audience Identification:The first step is identifying your target audience. Understanding the demographics, interests, and online behaviors of your potential patients allows you to tailor your marketing efforts to reach the right people at the right time.

2. Website Optimization: A well-optimized website is crucial for attracting organic traffic and converting visitors into patients. Implementing SEO best practices, optimizing page load speed, and ensuring a user-friendly experience are essential elements of successful Orthopedic marketing.

3. Content Creation and Distribution:Creating valuable and informative content is key to establishing your practice as an authority in the Orthopedic field. From blog posts to videos, you can educate your audience about common Orthopedic conditions, treatment options, and preventive measures. Sharing this content through various channels helps attract and engage potential patients.

4. Search Engine Marketing (SEM): SEM involves running targeted ads on search engines like Google to increase your practice's visibility when potential patients search for relevant keywords. With careful keyword research and ad optimization, you can drive qualified traffic to your website and generate leads.

5. Social Media Engagement: Social media platforms provide an excellent opportunity to connect with your audience on a personal level. By sharing educational content, patient testimonials, and practice updates, you can foster engagement and build trust with your followers. Social media also allows for targeted advertising to reach specific demographics and expand your reach.

6. Online Reviews and Reputation Management: Positive online reviews and a strong reputation are vital for attracting new patients. Encouraging satisfied patients to leave reviews and actively managing your online reputation helps build trust and credibility in the Orthopedic community.

Our team of experts combines technical expertise with industry knowledge to ensure your marketing efforts yield tangible results.
Let Invigo Media Take Care of
Your Orthopedic Marketing
Choosing the right marketing partner for your Orthopedic practice is crucial for achieving long-term success. Here's why Invigo Media stands out:
Specialization
in the orthopedic Industry
We understand the intricacies of Orthopedic marketing and have extensive experience working with Orthopedic practices. Our in-depth knowledge allows us to create tailored strategies that resonate with your target audience and drive measurable results.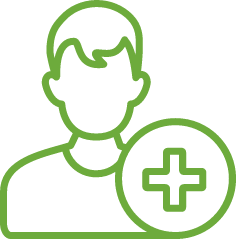 We offer a comprehensive range of digital marketing services, including SEO, PPC advertising, content creation, social media management, and reputation management. This holistic approach ensures that all aspects of your Orthopedic marketing are covered to maximize your practice's growth potential.
Results-Driven
Strategies
At Invigo Media, we are committed to delivering measurable results. We continuously monitor and analyze your marketing campaigns, making data-driven adjustments to optimize performance and generate a higher return on investment.
Transparent ​
Communication
We believe in open and transparent communication with our clients. Throughout our partnership, you'll receive regular updates, detailed reports, and insights into the progress and effectiveness of your Orthopedic marketing campaigns.
Choose Invigo Media as your trusted Orthopedic marketing partner and let us help you grow your practice and reach new heights in the digital landscape.
Ready to take your Orthopedic marketing to the next level? 
Book a demo today to discuss your goals, challenges, and how we can create a customized marketing strategy for your practice. Our team of experts is here to answer your questions and guide you through the process.
Frequently Asked Questions About
Orthopedic Marketing