Physical Medicine
Marketing
Welcome to Invigo Media's comprehensive guide to physical medicine marketing and strategies. Discover why digital marketing is essential in the field of physical medicine and explore the benefits it offers to your practice.
Invigo Media specializes in medical marketing for physical medicine healthcare practices. We help increase your client base and authority in the industry.
What is Physical Medicine?
Physical medicine is a specialized branch that focuses on preventing, diagnosing, and treating musculoskeletal and neuromuscular conditions. 
It encompasses a range of non-surgical treatments, including physical therapy, rehabilitation, pain management, and sports medicine. 
As a physical medicine practitioner, you understand the importance of providing personalized care and helping patients regain mobility and improve their quality of life.
At Invigo Media, we recognize the unique challenges physical medicine practices face. Our team of experts specializes in creating tailored marketing solutions that help you reach your target audience, drive patient engagement, and maximize your practice's growth.
Learn more about our physical medicine marketing services.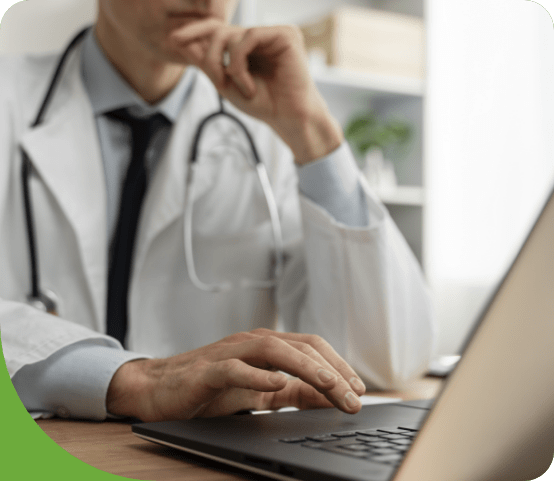 Why do you need digital marketing as a Physical Medicine practice?
Digital marketing is an indispensable tool for physical medicine practices. It offers numerous benefits and opportunities to enhance your practice's visibility, attract new patients, and strengthen relationships with existing ones. 
Here are some key reasons why digital marketing is essential for physical medicine practices:
Increased Online Visibility:

With effective digital marketing strategies, you can ensure that your practice appears prominently in search engine results, online directories, and social media platforms. This increased visibility helps potential patients find and choose your practice over competitors.

Targeted Advertising:

Digital marketing allows you to precisely target your ideal patient demographic based on factors such as age, location, and specific medical conditions. This ensures that your marketing efforts focus on reaching the right people who will most likely benefit from your services.

Patient Education and Engagement:

Digital marketing channels provide a platform to educate and engage with your patients. You can share valuable health information, answer patient questions, and build trust and loyalty through informative blog posts, engaging social media content, and email newsletters.

Online Appointment Scheduling:

By incorporating digital marketing strategies, you can streamline the appointment scheduling process for your patients. Implementing online booking systems and appointment reminders reduces administrative burdens and improves the patient experience.
At Invigo Media, we leverage the power of digital marketing to help physical medicine practices thrive—partner with us to unlock the full potential of your practice and stay ahead of the competition.
How does
marketing for Physical Medicine work?
Marketing for physical medicine practices requires a strategic approach to attract and engage patients while establishing your practice as a trusted source of specialized care. Here's an overview of how marketing for physical medicine works:

Our team will collaborate with you to develop a tailored marketing strategy for your physical medicine practice. This includes identifying your target patient demographics, understanding their needs and preferences, and setting measurable goals to guide our marketing efforts.

We will optimize your practice's website to ensure it is search engine-friendly, visually appealing, and user-friendly. This includes incorporating relevant keywords, creating informative content, optimizing page load speeds, and implementing clear calls to action.
Content Creation and Distribution
Our content specialists will create engaging and educational content that resonates with your target audience. This includes blog posts, videos, infographics, and patient success stories highlighting your expertise and providing valuable information to potential patients. We will distribute this content through various channels, such as your website, social media platforms, and email newsletters.

We will develop a social media strategy to engage with your audience, foster community, and share informative content. By regularly posting engaging updates, responding to comments and messages, and running targeted ad campaigns, we will help increase your practice's visibility and attract new patients.
Online Reputation Management
We will actively monitor and manage your practice's online reputation, including patient reviews, ratings, and feedback. We will enhance your practice's reputation and build trust with potential patients by promptly responding to reviews, addressing patient concerns, and showcasing positive testimonials.

We will optimize your practice's online presence for local search results. This includes creating and managing your Google My Business profile, optimizing your practice's information across online directories, and implementing location-specific keywords to ensure your practice appears prominently in local search results.

Paid Advertising Campaigns
We will develop and manage targeted paid advertising campaigns to increase your practice's visibility and attract potential patients. This may include search engine, display, and social media advertising tailored to your target audience.

Patient Relationship Management
We will implement strategies to nurture relationships with your existing patients and encourage referrals. This may involve personalized email campaigns, newsletters, and loyalty programs that provide ongoing support, educational resources, and exclusive offers to your patients.

Performance Tracking and Optimization
We continuously monitor the performance of your marketing campaigns, track key metrics to ensure they align with your practice's goals and optimize your marketing strategies based on data-driven insights, making adjustments and improvements as needed to maximize your return on investment.
Let Invigo Media take care of your Physical Medicine
By partnering with Invigo Media for your physical medicine marketing needs, you can confidently navigate the complexities of digital marketing while focusing on providing exceptional patient care. 
Take the first step towards unlocking the full potential of your physical medicine practice. 
Book a demo today to explore how our physical medicine marketing and strategies can transform your practice and help you achieve your goals.