Healthcare content is a type of content used to educate patients and healthcare clients. It's often written or guided by medical professionals or experts in other areas related to health and wellness. This content can include information about healthcare topics, services, products, news, and other related topics.
Healthcare content can help you improve your website and keep visitors on your site for longer. Stronger content can improve the number of business leads and increase sales conversions if you're selling products or services online. Plus, creating engaging healthcare pages may make search engine visits more likely!
What's the point of content on your website
Content is the backbone of your website. Not only is it the only way you can build brand awareness among consumers, but it's also the first point of contact for many users. This makes it crucial for healthcare websites to include engaging and effective content—and we're here to help you do just that!
Content is also a driving force behind search engine optimization (SEO). It helps you rank higher in search results and drive traffic to your website. Plus, it will engage your audience, build trust, and ultimately drive conversions. When it comes down to it, content is king!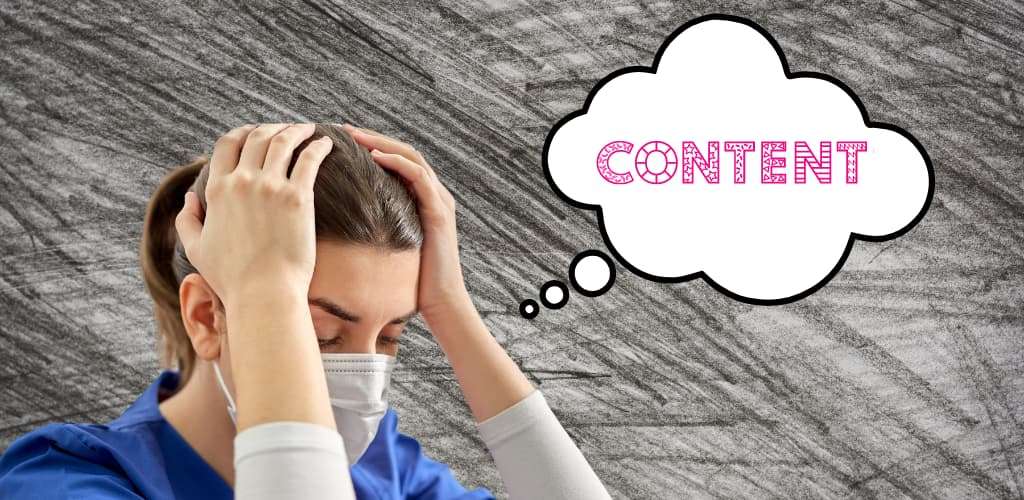 What is healthcare content?
Healthcare content is any type of writing that helps educate, inform, or assist patients in making decisions about their health. These could include blog posts, videos, podcasts, infographics, etc. Healthcare content can be a useful tool to promote health and prevent disease by educating people about the risks they face so that they can take actionable steps toward mitigating those risks.
It's important to remember that not all healthcare information is created equal: not all patient-facing content will resonate with your audience in the same way. The first step in creating great healthcare content is understanding what drives your target audience—their goals and motivations—so that you can tailor your message appropriately.
How does healthcare content help your website?
You might think you don't need healthcare content on your website; it's beautifully designed. You'd be wrong.
Content is the lifeblood of your website, and it can make or break its effectiveness. It doesn't matter if you have a well-designed site with an engaging layout and beautiful graphics—without good content, none of those things will matter to visitors who cannot find what they're looking for quickly and easily. Here are some reasons why:
Content makes your website unique and makes you stand out from the crowd.
It helps people find your site, so they can learn more about what you do.
It helps build trust with potential patients or clients by showing them that you care for their needs.
How to write or produce content for your website
A content plan is a foundation for everything you do, including your website's web copy. A good content plan will help you determine the most important topics and how much time (and money) to invest in each one. When creating a new website or redesigning an existing one, start by clarifying your goal for the site's messaging and then work backward from there.
When writing healthcare content, remember that patients aren't just consumers; they're people with emotions who are suffering through difficult circumstances and need answers quickly—but they also want their questions answered with respect and compassion.
Ask some friends or family members about their experiences when they recently visited a hospital or clinic. Doing this will provide some perspective on how people talk about their healthcare experiences today so that you can better understand what kind of language resonates best with them!
How to create engaging and effective healthcare content for your website
Start by using a conversational tone and concise, clear sentences that get to the point and speak to the heart of the matter.
Bullet points and lists break up content into easily digestible chunks. Use "you" statements to speak directly to your reader and focus on providing them with information relevant to their lives.
Include images where appropriate. But ensure they're relevant to your topic and are not distracting from your page's main content. Remember, everything you do or add to your site should add value and have a goal behind it.
Adding video content in place of static images is something to consider, as they can be more engaging than screenshots or other graphics. Just don't replace all your imagery with video, as they are heavy to load—balance is the key.
Links to external resources like videos or articles that provide helpful information related to what you are discussing on your website are also helpful. These links provide credibility to your content and knowledge while also enabling your users to read more about the topic. However, be cautious of too many links in a content piece—just like in academic writing, you need to put your own thoughts and findings into your writing.
When it comes to SEO, if you have no or low-quality content on your website, search engines won't be able to index your pages properly. This will result in lower rankings and fewer visitors from organic search than if you had a well-optimized site with plenty of high-quality content.
Expert insights into content marketing for healthcare
According to a study by the Pew Research Center, 72% of internet users say they looked online for health information within the past year. The same study also found that people look online for health information to help them make decisions about their own health and the health of their family members. What this boils down to is that there's a huge opportunity for you to make your website the first place people go to when they need information about their health.
A survey by the Content Marketing Institute found that healthcare is the second most popular industry for content marketing after technology. However, healthcare professionals cited "lack of time" as the main barrier to consuming online medical content. This is a big problem because if you don't have time to stay up-to-date on the latest medical research, how are you supposed to provide your patients with the best possible care?
But there is a solution; here at Invigo Media, we provide content creation services for healthcare professionals. We'll help you create content to make your website stand out from the crowd and keep patients coming back for more!
Research by the Journal of Medical Internet Research found that interactive and multimedia elements in online health content can improve patient engagement and understanding. A Journal of Medical Internet Research study also found that storytelling in online health content can effectively promote behavior change among patients.
In healthcare, the most effective types of content are in-person events (such as conferences and seminars), articles on the company website, and online newsletters. Also, using appropriate humor in health-related videos can increase engagement and retention of information.
A survey by the Content Marketing Institute found that the most effective marketing tactics for content distribution in healthcare are social media and email marketing. Moreover, the use of virtual reality and augmented reality in healthcare education can improve engagement, retention, and understanding of information.
Finally, in a survey by the Content Marketing Institute, healthcare professionals said that the most important metric for measuring the success of their content marketing is website traffic.

Takeaway
There is no question about it; content marketing is essential to healthcare practice marketing strategy. It's a perfect arena for potential clients and patients to learn more about your values and mark you as a trusted partner in their healthcare needs. A solid content plan will help you establish yourself as a thought leader in your industry and attract new customers.
Unfortunately, creating content can be daunting if that's not your area of expertise or you simply don't have the time to put in the care your content needs. Don't beat yourself up about it. There are other ways to build your content plan, leaving you time to focus on what you love most—your patients.
Just contact Invigo Media and book your free demo today to see how they can help you.