In competitive markets, the need to differentiate and build brand equity becomes even more important. We can execute marketing strategies that will give your maxillofacial clinic a competitive advantage and make you more visible to potential clients.
Effective Maxillofacial
Marketing Strategies
Are you running a maxillofacial practice and looking to attract more patients to your practice? In today's digital age, having a strong online presence is critical for any business. With the proper marketing strategies, you can reach your target audience and grow your business.
At Invigo Media, we specialize in digital marketing for maxillofacial practices and can help you take your business to the next level.
Maxillofacial is a type of surgery that focuses on the treatment of conditions related to the face, jaws, including the bones, muscles, and other tissues. Procedures include but are not limited to wisdom teeth extraction, corrective jaw surgery, and facial trauma repair. Maxillofacial surgery is often performed in conjunction with other medical specialties, such as dentistry and plastic surgery.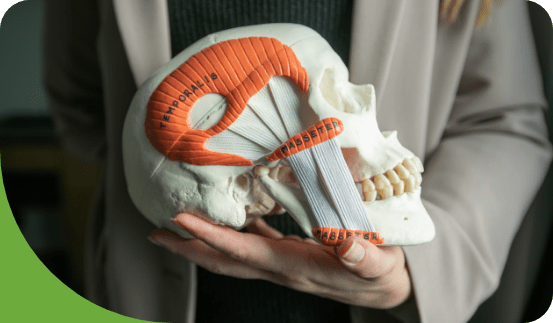 Why You Need Digital Marketing for
Your Maxillofacial Practice
Most people today search for services and products online before making any decisions, and your practice needs to be visible and easily accessible to potential patients. Here are five reasons why digital marketing is crucial for your maxillofacial practice:

Increased Brand Awareness
Digital marketing can help improve brand awareness and make your practice stand out from competitors. With the right digital marketing strategies, you can showcase your services, highlight your unique selling points, and reach a wider audience.
Digital marketing allows you to target your ideal audience based on demographics, location, interests, and behaviors. This means you can tailor your marketing efforts to reach people most likely to need and benefit from your services, thus increasing your chances of generating leads and conversions.

Improved Patient Experience
Digital marketing can help improve the overall patient experience by making it easier for them to find and access your services. A well-designed website with clear information, easy-to-use booking systems, and helpful resources can significantly affect how potential patients perceive your practice.

Digital marketing is generally more cost effective than traditional marketing methods. With the right strategies, you can generate significant returns on your investment, even with a limited budget.

One of the most significant advantages of digital marketing is that you can track and measure your results easily. This means you can make data-driven decisions and continually improve your strategies to achieve your goals.
Whether you're looking to improve your search engine rankings, increase your social media following, or create compelling content to educate and engage your audience, digital marketing can help you achieve your goals and grow your gastroenterology practice.
What Does Maxillofacial
Marketing Include?
Maxillofacial medical marketing can include a wide range of strategies, depending on your business goals and target audience. Some of the most effective maxillofacial Marketing strategies include:
Search engine optimization (SEO) to improve your website's visibility in search results.
Pay-per-click (PPC) advertising to drive traffic to your website.
Social media marketing to engage with potential patients on social media platforms.
Content marketing to provide value to your audience and establish your authority in the industry.
Email marketing to nurture leads and encourage repeat business.
Reputation management to monitor and improve your online reputation.
How Does Marketing
for Maxillofacial Work?
Marketing for maxillofacial practices typically involves a combination of online and offline strategies. We focus on digital marketing to help you reach your target audience and grow your business. Here's how our process works:

We start by conducting a thorough analysis of your business, your competitors, and your target audience to develop a custom marketing plan.
We work with you to develop a strategy that aligns with your goals and budget.

We execute the marketing plan, using a variety of digital marketing tactics to reach your target audience and drive results.

We continually monitor and analyze your campaign performance to optimize our strategies and maximize your ROI.
We provide regular reports to keep you informed about your campaign's progress and results.
By partnering with us for your maxillofacial marketing needs, you can trust that you're working with a team of experts who are dedicated to helping you succeed.
Let Us Take Care of Your
Maxillofacial Marketing
At Invigo Media, we understand the unique challenges that come with marketing a maxillofacial practice. That's why we specialize in creating custom marketing plans that are tailored to your business's specific needs and goals. With years of experience in the industry, we can help you reach your target audience and grow your business.
We have a proven track record of success in the maxillofacial industry.
We use the latest marketing tools and technologies to stay ahead of the curve.
We offer personalized service and support to ensure your success.
We're committed to delivering measurable results and ROI.
Marketing your maxillofacial practice doesn't have to be a challenge. With the right strategies and partner, you can reach your target audience and grow your business.
Frequently Asked Questions
We're dedicated to helping maxillofacial practices succeed through effective digital marketing